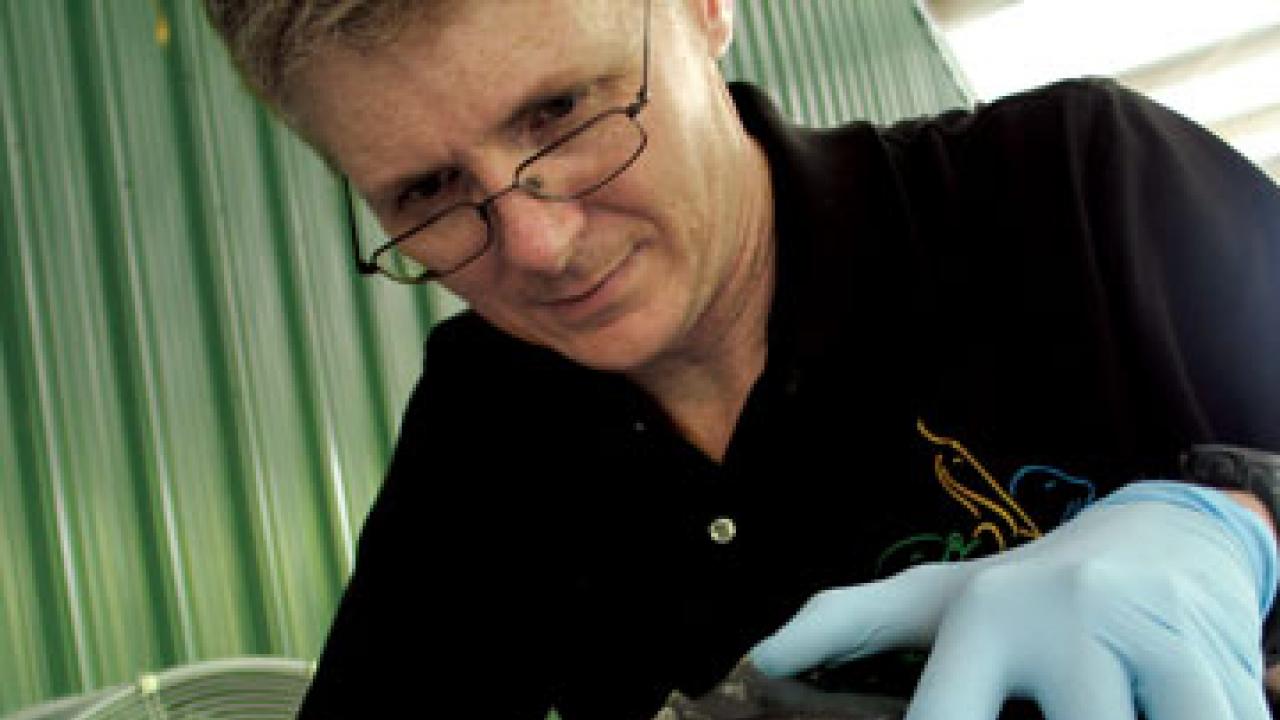 This February 7 marks the 25th anniversary of the American Trader oil spill in Huntington Beach—a watershed event that galvanized Orange County residents and called upon the expertise of UC Davis' wildlife experts. From the tragedy that spilled an estimated 416,598 gallons of crude oil into the Pacific Ocean, the UC Davis Oiled Wildlife Care Network (OWCN) was formed, creating the world's leading model for responding to wildlife suffering from oil damage. OWCN Director Michael Ziccardi (DVM '93, MPVM '94, Ph.D. '01), who also helped lead the national marine mammal and sea turtle response after the BP Deepwater Horizon spill in 2010, tells more about UC Davis' connection to the Orange County spill.
How did Orange County residents help form the UC Davis OWCN?
The American Trader oil spill happened in 1990, almost immediately after Exxon Valdez. Exxon was the first spill to come into people's living rooms (on the evening news), so American Trader happened in the backyard of some environmentally conscious people during a period of heightened public attention.
The federal government was taking steps to revise federal legislation after Exxon, but after American Trader, California decided that wasn't good enough. We wanted the best response system in the world. So we set up a second state safety net to fund quicker responses. The OWCN was created under the Office of Spill Prevention and Response. Without the public response to American Trader—lead by people living in Orange County who understood the importance of the marine environment—we wouldn't have nearly the degree of responsiveness we have now. OWCN is considered the world model, and we're contacted by many other countries and nations for help setting up their own networks. In part because of OWCN's success, NOAA asked me to write national guidelines for marine mammal response, which were used in response to the 2010 Deepwater Horizon spill .
What about oil spills might surprise people?
Of the more than 2,000 spills that happen every year off the coast of California alone, many are not petroleum-based or the result of industrial accidents. Fish and vegetable oils have been the most damaging spills of all to seabirds in California responses.
What can people do to help?
The most important action you can take is to learn and use proper disposal techniques for your cooking oils, motor oil and any other household oil. All roads lead to the ocean, and everyone can play an important role in prevention.
If you want to help animals directly, find an OWCN partner organization, such as the Wetlands and Wildlife Care Center or the Los Angeles Oiled Bird Care and Education Center, that accepts volunteers, and apply for their training program. A strong volunteer corps at all partner organizations benefits the network.
Category
Tags