Parent's insider guide: all you need to know about Picnic Day 2023
Picnic Day is on April 15th, will you be joining us? This year's theme is Ignite Our Moment. Read on for everything you need to know about Picnic Day: history, can't miss events from previous lineups, parking information, and food recommendations.
This article has been updated as of April 7, 2023. The information provided is subject to change, so you'll want to be sure to visit the Picnic Day website for more information as Picnic Day approaches. 
Alumni and Affiliate Relations wants you to join us for Picnic Day events! You can register and view events here. 
History Behind Picnic Day: 
From the very first Picnic Day in 1909, it has become the crown-jewel event of the UC system and is greatly cherished by UC Davis. It is one of the largest student-run events in the country, and Picnic Day demonstrates the diversity and achievements of the UC Davis community in areas such as research, teaching, service, and campus life. 
The Picnic Day tradition began in 1909 for people to view the University Farm's new dairy barn. More than 2,000 people attended and brought picnics to accompany the coffee, cream, and sugar the University Farm provided. The University Farm continued to sponsor and plan the event until 1912, when Picnic Day planning responsibilities were transferred to the student committee. 
Picnic Day now offers a variety of entertainment for all ages and it is not an event you want to miss out on.
For more information on Picnic Day history, you can visit this website. 
Entertainment Events You Won't Want to Miss: 
The following events are some highlights being offered during Picnic Day. Be sure to visit the Picnic Day Website to learn updates on location and times, as well as view the other events they have planned this year.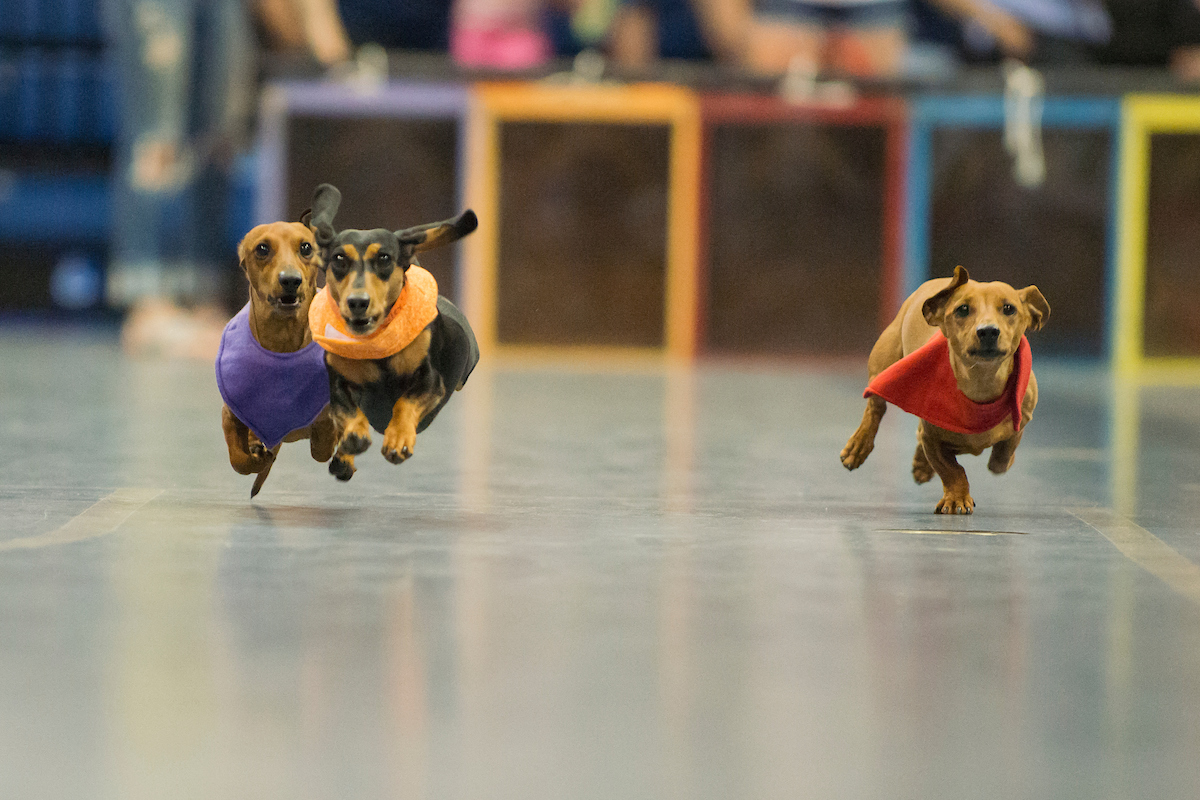 Source: Guide: UC Davis Picnic Day 2019
The Doxie Derby is one of Picnic Day's most popular events. At this event, thousands of spectators watch as adorable Dachshund's race one another to the finish line. This event is hosted by the UC Davis School of Veterinary Medicine in order to help them raise funds for their licensing exams at the end of their training. Because this event is so popular, you'll want to be sure to arrive early so that you can see it in person. If you can't make it, no worries, because the event will be live streamed so no one misses out on the fun.
Doors for the Doxie Derby open at 11am at the University Credit Union Center. This year, tickets are required. 
Animal Events: 
There are many events throughout the day that offer amazing experiences to interact with animals. In the past these events have been a staple of picnic day: 
Animal Science Petting Zoo - Cole Facility 10am-2:30pm
Frisbee Dog Content - Hutchison field 10:30am-3pm
Orphan Kitten Project  - Giedt Hall room 1001 - 10am-3:30pm
Dairy Facility Booth - Cole Facility 10am-3pm
Davis Dance Revolution: 
Source: Guide: UC Davis Picnic Day 2019
The Davis Dance Revolution (DDR) is an exciting way to end Picnic Day. Hosted by the UC Davis Center for Student Involvement, there are modern and traditional dance routines at this annual competition, so be sure to stop by to see which student group takes home the top prize. 
University Credit Union Center - 7pm-10:30pm. Event and ticket information can be found here.
Liquid-Nitrogen Frozen Sorbet: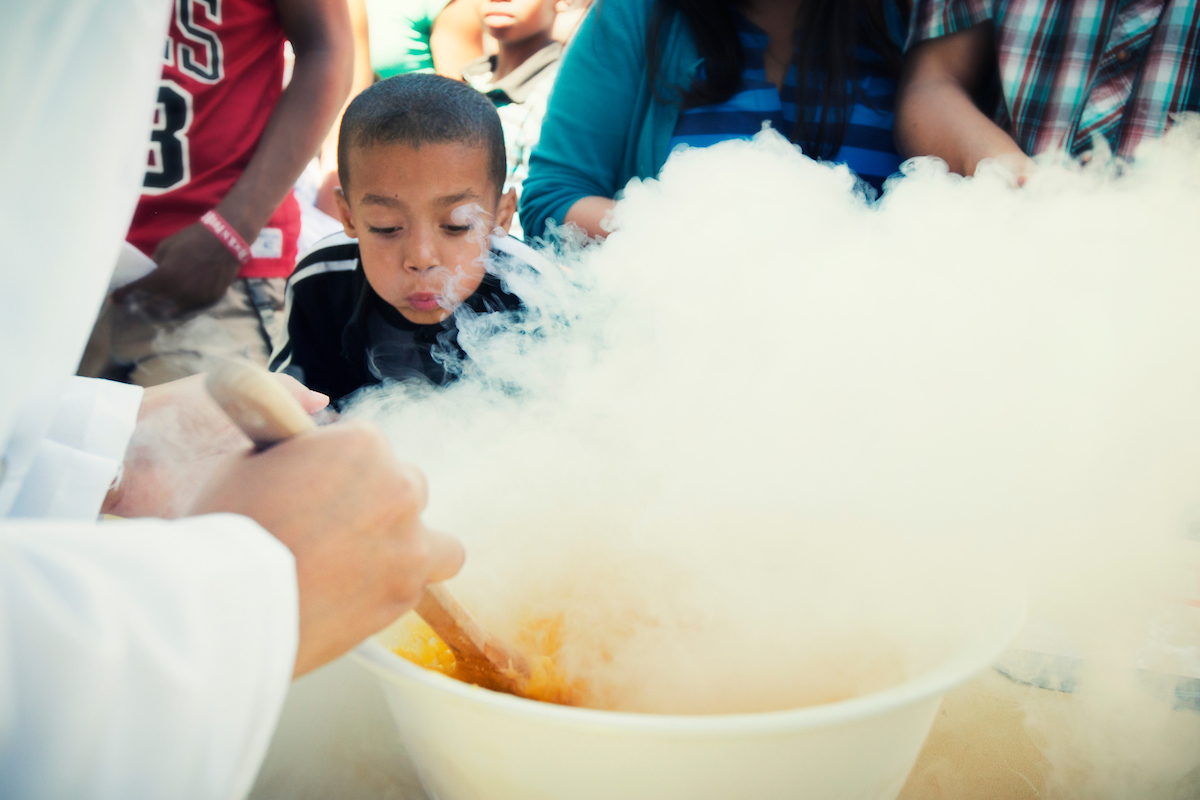 Source: Guide: UC Davis Picnic Day 2019
The UC Davis Student Chapter of the American Institute of Chemical Engineering hosts an event where you can make liquid nitrogen ice cream. This is an exciting opportunity to see this chemical phenomenon take place, and you may even get to enjoy some of it afterwards.  
Bainer Hall Lawn - 10am - 2pm
Laser Maze: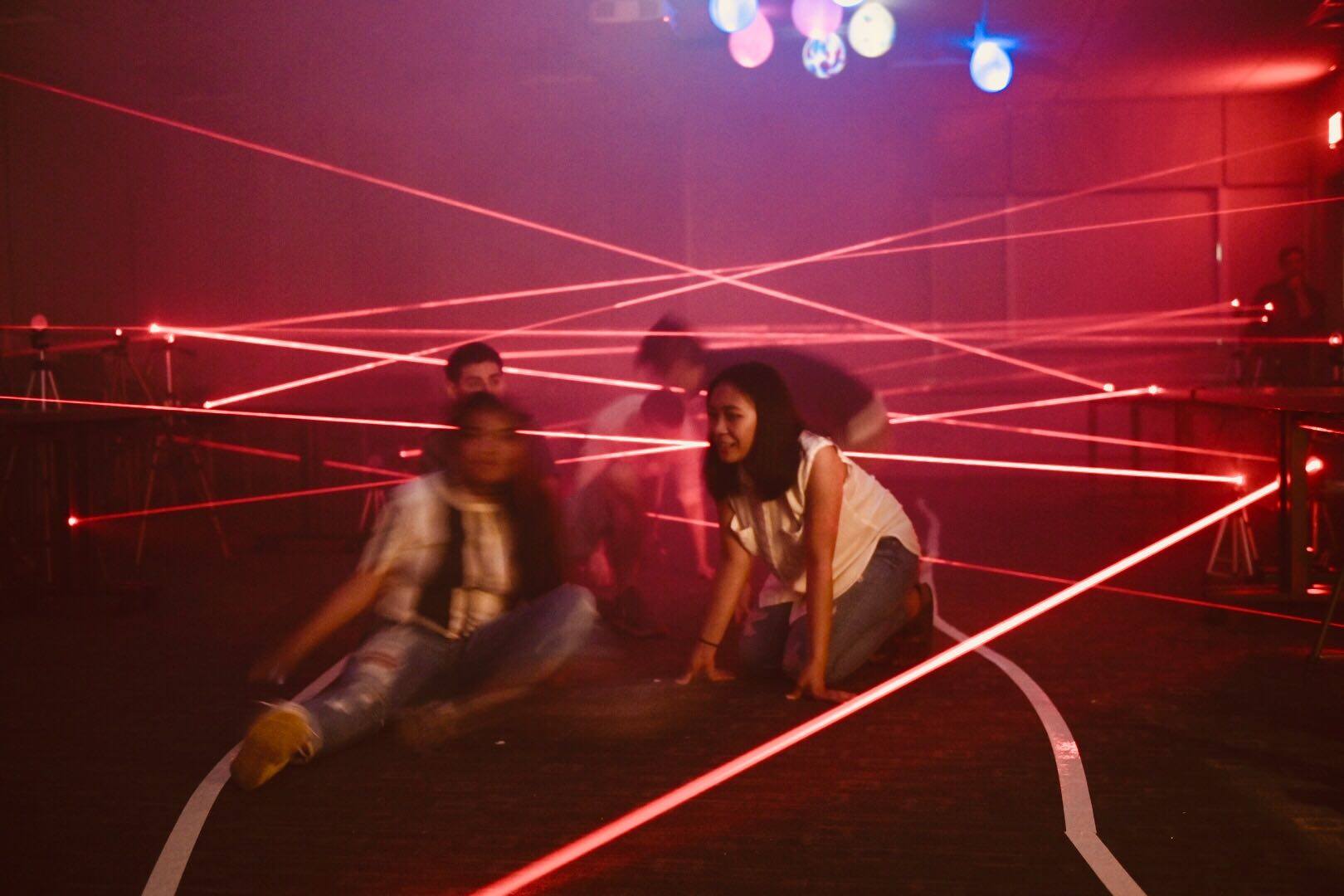 Source: UC Davis Facebook Page
The laser maze is an exciting event where you get to navigate your way through a maze made entirely from laser beams. You'll want to get there early to avoid the long lines.
Kemper Hall 1003 & 1007 - 9am-2pm
Cockroach Racing: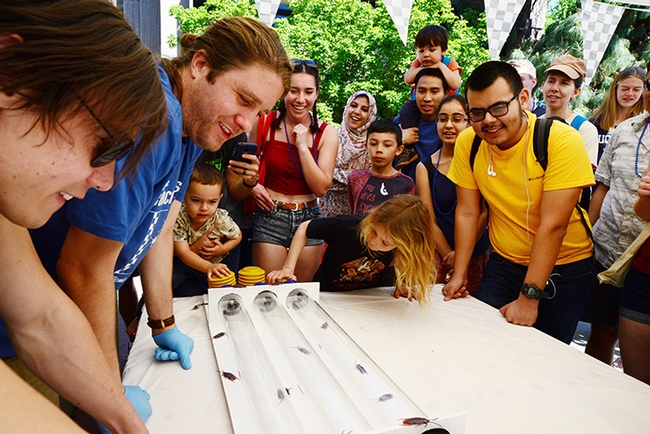 Source: Bug Squad
Cockroach racing is another very popular event hosted by the UC Davis Entomology Graduate Student Association (ESGA). The roaches will be racing all day. Make sure to come out and support your favorite racer.
Briggs Hall Cantilever - 11am-3pm
Children's Discovery Fair: 
The Children's Discovery Fair offers a variety of fun crafts and activities for children and families to enjoy. 
Give Day: 
Picnic Day is also Give Day. Join us for our sixth annual UC Davis Give Day April 14-15. UC Davis Give Day is a 29-hour online and in-person fundraising drive to support initiatives at UC Davis Health, our veterinary hospitals and the UC Davis campus.
Parade Watching Locations: 
Picnic Day begins with a morning parade. To see an example of what the picnic day parade is like here is a video of last year's parade. 
This year's announcing locations are:
Grandstands on North Quad Ave. Across from Wickson Hall
2nd and D St. in front of Coldwell Banker Select Real Estate Inc.
F St. in front of PDQ Fingerprinting
3rd and C St. near Burgers and Brew
The Opening Ceremony is from 9:30am - 10:30am at the Grandstands. 
You can view the map for this year's parade route on the Picnic Day Website. 
Food Recommendations: 
There are a number of eateries available for UC Davis guests, both on campus and in Downtown. There are many popular restaurants in Downtown Davis, including Burgers and Brew, Sudwerk, Paesanos, Woodstock's Pizza, Crepeville, Davis Creamery, and Cafe Bernardo. 
The Coffee House at Memorial Union - open 9am-5pm
Spokes Grill - Open 10:30am-3pm
Silo (Market, Spokes Grill, The Gunrock)- Open 10:30am - 3pm

Crepe Bistro - Open 9am-3:30am

Sage Street Market - Open 12-8pm
Food Truck Locations - Memorial Union Quad, Hoagland, Silo, California Hall, Cole Facility, Hutchison, Mondavi, Lot 6

All food trucks will have vegetarian options.
On campus coffee locations: 
Peet's ARC - Open 8am - 8pm
Peet's Silo - Open 8am - 8pm
California Coffee Kiosk - Open 8am - 3pm
Residential Dining Commons: 
Segundo DC  - Open 9am-2pm; 5pm-8pm

Segundo Market - open 9am-12pm

Tercero DC - Open 9am-2pm; 5pm-8pm

Tercero Market - open 9am-12pm

Cuarto DC - Open 9am-2pm; 5pm-8pm

Cuarto Market - Open 12-8pm
Parking and Shuttles: 
Parking is free on campus all day except in restricted spaces. For vehicle emergency assistance between 8 AM and 5 PM, call TAPS at (530) 752 - 8277. Driving through campus will be very difficult because of how busy it is, and some of the lots are larger and more accessible than others. The parking lots we recommend are the Quad structure, Pavilion, and Gateway. Here is a map of available parking lots around campus: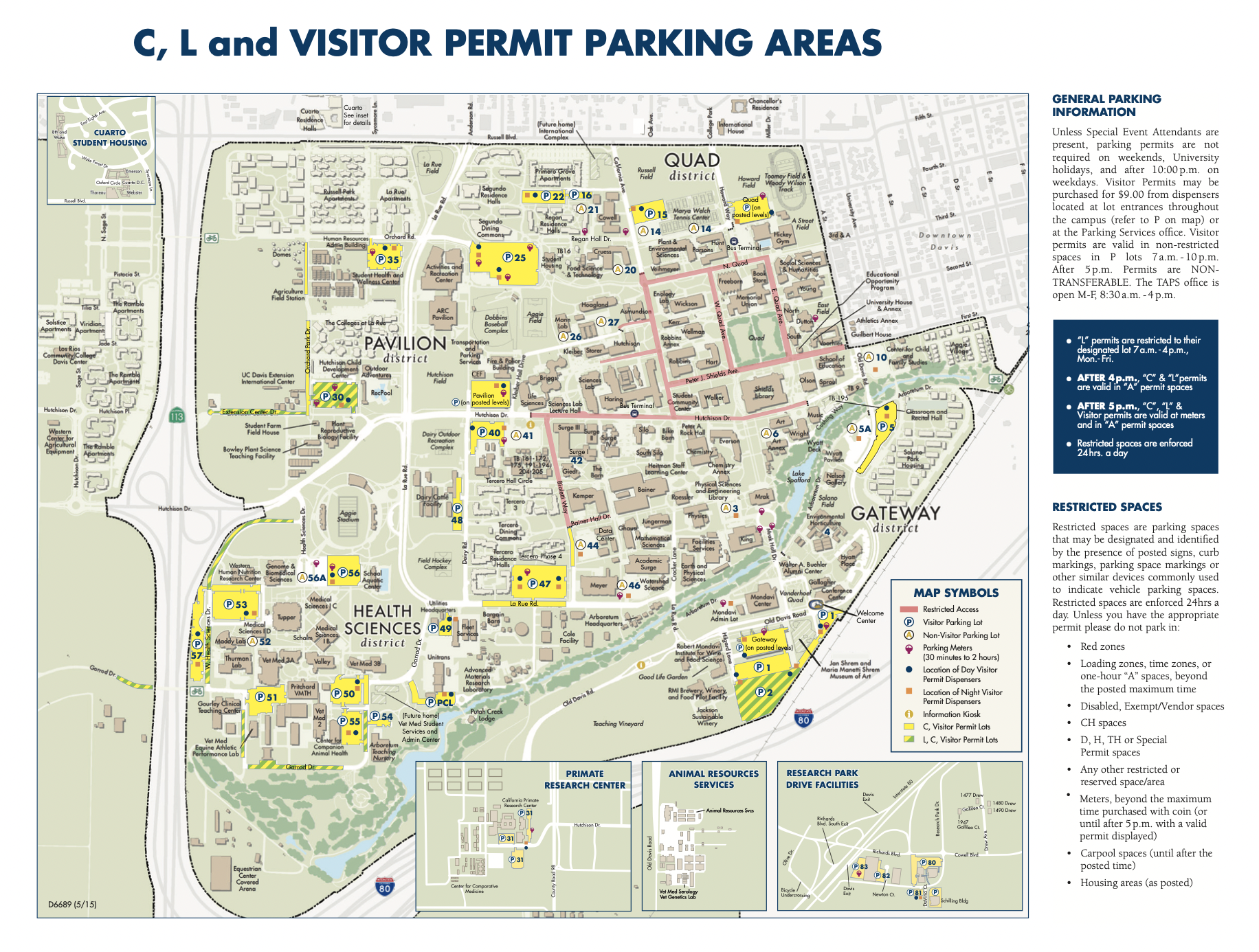 Please also visit unitrans.com for more information about the bus schedule. On Picnic Day, Unitrans will operate expanded weekend service with some route changes. All regular fares apply, and all Unitrans passes are accepted.
Be sure to refer back to the Picnic Day website for the most up to date information as Picnic Day approaches. 
What to Bring and Weather: 
The average temperature in Davis around Picnic Day is in the high 70's. Here is a list of what we recommend to bring:
Sunscreen 

Hat 

Refillable water bottle 

Sunglasses 

Lightweight clothing 

Walking shoes 

Device to take pictures 

Cash and debit or credit card
Important Information: 
Headquarters: 
The Picnic Day Headquarters is located in the Memorial Union on the 3rd Floor in room 349. If you have any questions or concerns, you can visit their office. You can also contact them at (530) 752-6320. 
Restrooms:
Picnic Day restroom locations can be viewed on this map.
What is the Picnic Day Parade Marshal? 
The Parade Marshal represents Picnic Day and is selected based on their activity and participation within the community, their positive impact on others, and their embodiment of the theme.
This year's Parade Marshal is Cecelia Maikai-Bread. Cecelia is a food service worker at UC Davis. She is an important part of the UC Davis community and is known for her weekly sayings like "Magnificent Mondays, Terrific Tuesdays." She represents the spirit of what it means to be a UC Davis community member through her excellent service and kindness to every student. Cecelia has been working with UC Davis since 2010 and having a son who went away to college, she has a batter understanding of what students go through. Thank you Cecelia for your hard work and dedication!
How is Picnic Day Planned? 
The Picnic Day Board of Directors is composed of 15 student directors who are each responsible for a specific aspect of Picnic Day. This year's Board of Directors includes: 
Chair - Jesse Goodman 

Vice Chair - Branford Martin 

Animal Events - Ava Schulze

Business - Manish Rathor 

Children's Discovery Fair - Oshiogwe Nash-Haruna

Entertainment - Jillian Munyon 

Exhibits - Mina Sarmah 

Graphics - Randy Chang 

Operations Director - Janani Kumar

Parade - Julia DeLaMare 

Publicity - Lindsey Marshall 

Student Organization Fair - Michelle Feng 

Transportation Director - Harleen Bal 

Technical Director - Terry Tong 

Volunteer Director - Hannah Jimenez 
To learn about the board of directors and their responsibilities visit this website.  
Fun Picnic Day Trivia Facts:
Are you the ultimate Picnic Day fan? Take our trivia quiz and find out! 
Scroll down for spoilers.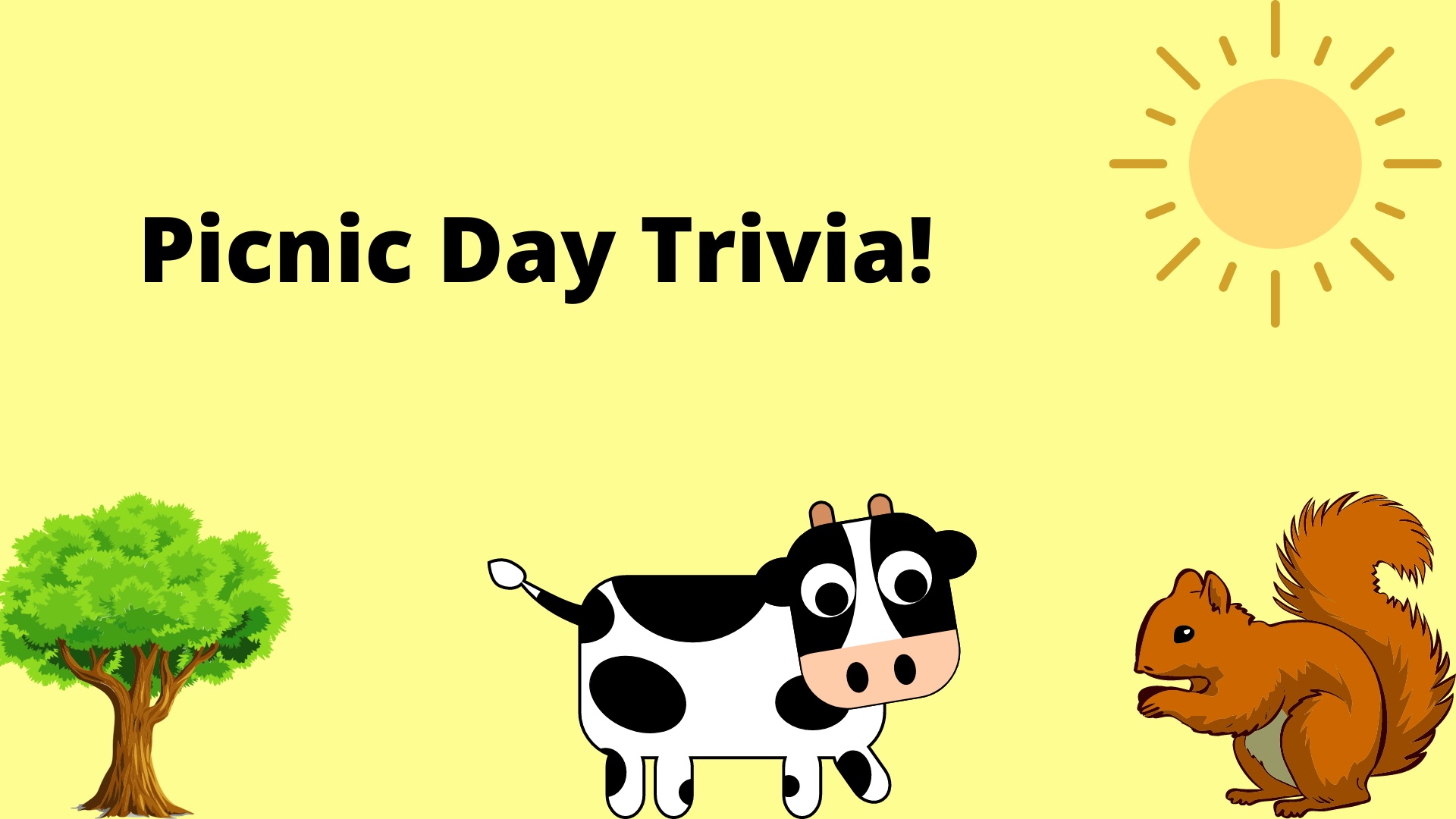 1. Through the years of Picnic Day history, how many times has the event been canceled?
2. In what year did the event first get the name  "Picnic Day"?
3. What year was the first Picnic Day?
4. Since 1959, the parade was extended to include downtown Davis. What happened in 1959 to spur this change?
5. What was the reason for the very first Picnic Day?
6. During the first Picnic Day, Molly the cow walked from Davis (then Davisville) to Berkeley. How long did it take her to walk there?
7. In 1912, what organization took over the task of planning and sponsoring Picnic Day?
8. How many people attended the first Picnic Day?
9. What is the theme of this years Picnic Day?
10. Who is our 2023 Picnic Day Marshal? 
Answers
1. Picnic Day has been canceled 5 times
2. "Picnic Day" got its name in 1916 
3. The first Picnic Day took place in 1909
4. Davis became a separate UC Campus and not just the Farm School for UC Berkeley
5. To tour the University Farm's new dairy barn
6. Molly walked for 97 hours
7. The Student Committee took over Picnic Day planning
8. 2,200 people attended the first Picnic Day 
9.  Ignite Our Moment is the theme this year
10. Cecelia Maikai-Bread is our 2023 Picnic Day Marshal 
Primary Category
Secondary Categories
Tags