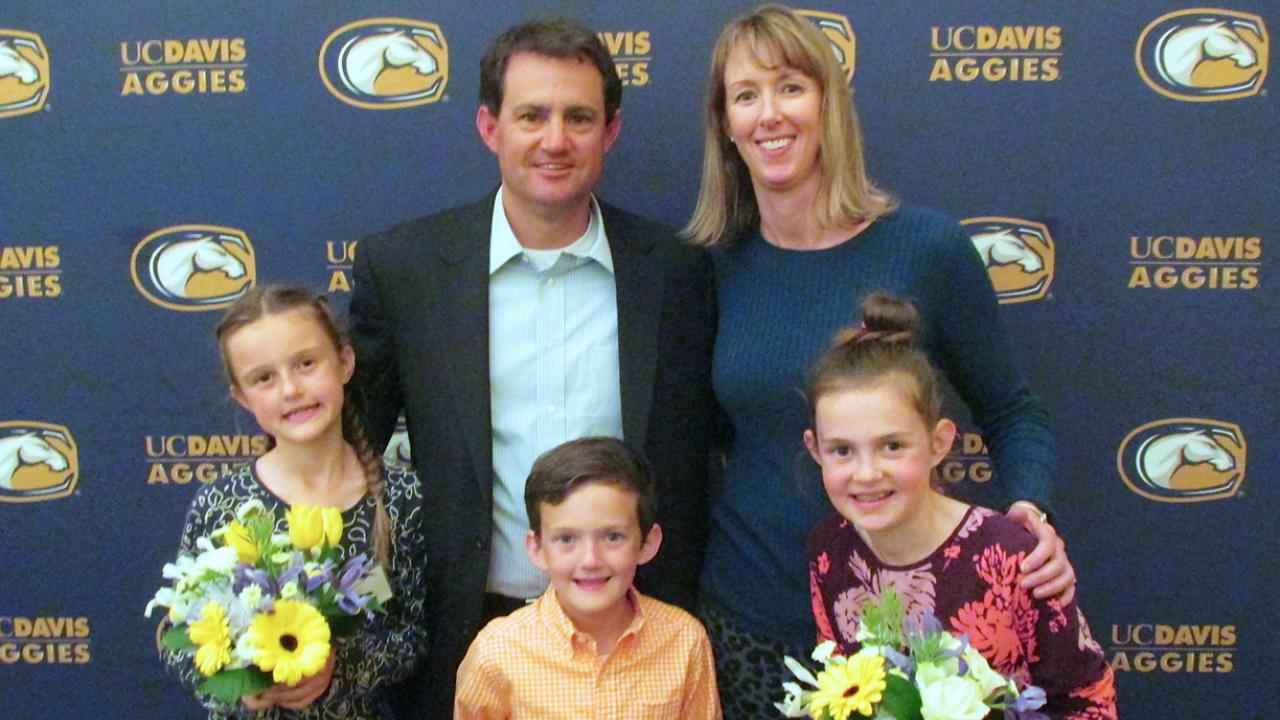 Alumni create athletics scholarship and new alumni athletics council
By Laura Pizzo
When David Nix '96 is asked what he learned as a UC Davis student-athlete, he doesn't miss a beat. 
"Leadership, grit and perseverance," he said.
Now, as area vice president of sales for Z-Medica—a company focused on hemorrhage control for consumers, military personnel, and patients of healthcare providers and first responders around the world—he carries those Aggie lessons with him, making sure to pass  them on to his children, colleagues and fellow Aggie alumni. 
"A lot of times what separates the people that win and the people that don't is just hanging in there. Sometimes that's your win for the  day, and it's often what makes a leader. And that's something UC Davis baseball taught me," said Nix, who played right field for UC Davis'
baseball team and was inducted into the Cal Aggie Athletics Hall of Fame, which he regards as "one of the most special moments of my life."
Nix, along with five other Aggie student athletes and in partnership with UC Davis Athletics leadership, recently founded the UC Davis Athletics Alumni Council, which aims to help reconnect alumni athletes with the university. The council will offer more opportunities for student athletes to return to campus and engage with the department of athletics and current students.
In addition to giving his time, he and his wife Sarah Nix '95, who is also a former Aggie student-athlete, made a gift to endow a scholarship for UC Davis student athletes. 
The Nixes hope the endowment, named the Sarah and David Nix Aggie Pride Leadership Endowment, will inspire student-athletes to view their time on campus as just the beginning of a lifetime of service and engagement with UC Davis and Aggie athletics.
"We are so happy to be able to give back to UC Davis and the athletics program because we earned a very strong foundation there, which prepared us for graduate school and our respective careers," said Sarah, who rowed crew for UC Davis and is now an estate planning
attorney at Gagen McCoy.
"And I see those qualities in other Aggies as well. I recently hired two associates at my firm, and both are UC Davis alumni. They are great attorneys and awesome people, but it was an added bonus when I noticed they were from UC Davis." David added, "Sports, by their very nature, expose weakness and offer an opportunity for people to overcome those weaknesses," David said.
"They develop someone in a way that creates a total person and helps build both academic and emotional strength. That combination 
translates directly into becoming a strong leader, and I believe that represents exactly what UC Davis is all about: Leadership.
Category