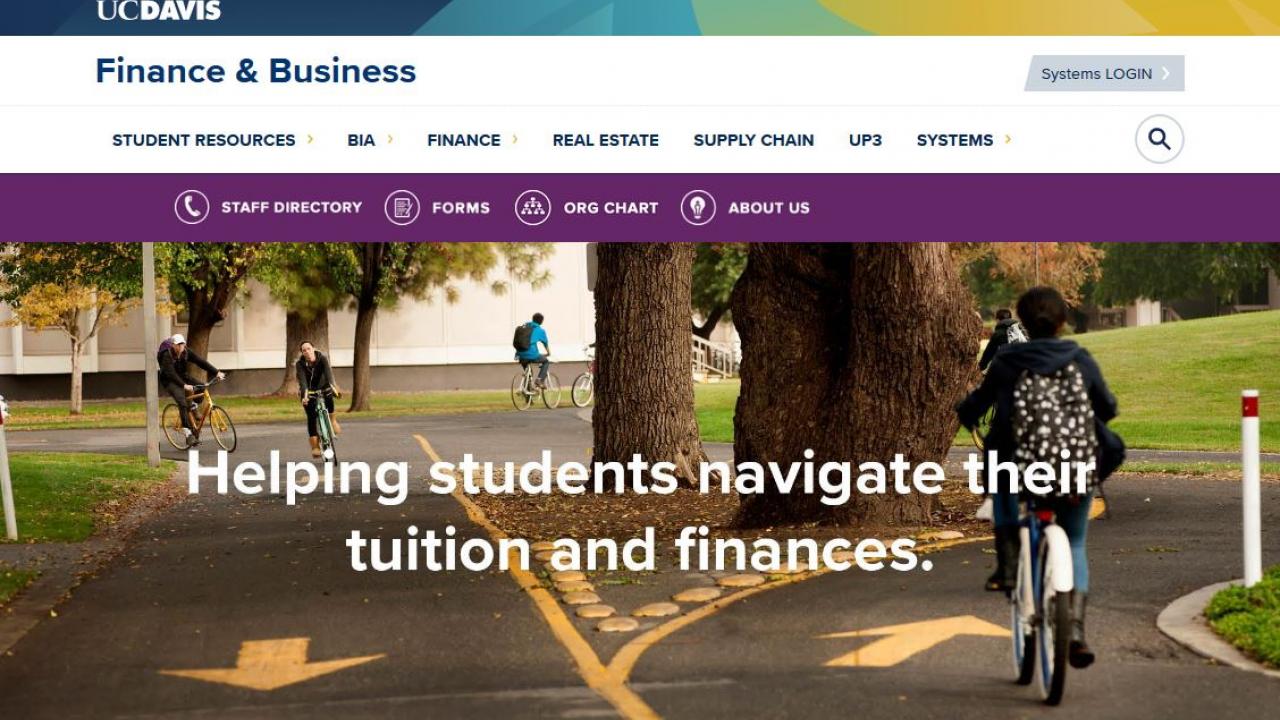 New Website for Student Tuition and Fees

  
Tired of searching through different websites to find information on student tuition, fees, payment options and financial aid disbursement? On January 25, a new website launched, which was designed to bring together information from the Budget Office, Student Accounting and the Cashier and Payment Solutions Office in one convenient location. With improved navigation and tools, like a glossary of fees and an important announcements feed, the Student Resources section of the new Finance and Business website helps students navigate their tuition and finances at UC Davis.
Dining Commons Theme Meal
UC Davis Dining Services' last dinner theme meal of the quarter is approaching. Join us for Passport to South America on March 6! The dining commons accept Aggie Cash, credit and debit. For updates on the menu, click here.
Students Can Share Their Voice with Resident Consultants
Resident Consultants is a program hosted by UC Davis Student Housing and Dining Services where students can meet with professional staff to share their voice. Not only can students give feedback on residence hall and apartment living, they have the opportunity to taste the meals that will be served on upcoming themed meals! Our last meeting of the quarter will be on March 13, at 2 p.m., in the 1st floor of Tercero DC, followed by a taste meal for Backpacking Across Europe.
What to show off your res hall room to perspective students?
UC Davis Student Housing is looking for residents to volunteer their rooms for Decision UC Davis on April 6. All roommates must approve to volunteer and will be compensated with Aggie Cash. Please contact your RA for more information.
Second Year Housing
It can be overwhelming looking for second-year housing. The Off Campus Housing programs provided students with helpful tips that will guide them in their search. A copy of the presentations can be found here. If students have any questions or concerns, please don't hesitate to contact studenthousing@ucdavis.edu
Parents, if your student is looking to move off-campus, without a doubt you have already received numerous communications preparing you and your student for a housing hunt. Where are you going to find the perfect roommates? Is this rental a deal or are you being over-charged? Can you save money with your student living outside of Davis…or even back at home with you? These are important questions to ask and looking to a move near or far from campus, the goClub can help you make smart cost and transportation decisions with your student. First, here is some key information to consider:
Rent is higher closer to campus, but transportation costs are lower.

Living outside of Davis can greatly increase transportation costs (if you don't plan ahead).

Time spent behind the wheel is time wasted.
Below is an estimate of a student's annual commute cost from various local cities (9 months, 25mpg vehicle, $3.15/gallon gas, $45/month parking permit) compared against the major transit options from those areas. Let's break it down:
Commute City

Miles

Annual Drive $

Sacramento

17.4

$1,128.49

 
 

$0/year

$45/mo.
$405/year

$123/mo.

$1,107/year

West Sacramento

14.4

$1,003.75

 
 

$0/year

 
 

Davis

3.0

$529.74

$0/year

 

$0/year

 
 

Dixon

7.9

$733.48

 

$40/mo.
$360/year

 
 
 

Woodland

11.0

$862.38

 
 

$0/year

 
 

Winters/El Rio Villa

14.6

$1,012.07

 
 

$0/year

 
 

Vacaville

19.1

$1,199.18

 

$40/mo.
$360/year

 
 

$189/mo.
$1,701/year

Fairfield

28.3

$1,581.71

 

$40/mo.
$360/year

 
 

$208/mo.
$1,872/year

Benicia

45.7

$2,305.21

 

$40/mo.
$360/year

 
 
 

Pleasant Hill BART

54.3

$2,662.79

 

$84/mo.
$756/year

 
 
 
 Though driving alone in your car may seem easy and affordable, the opposite is true while commuting to UC Davis. As you can see above, there are much, MUCH cheaper options. Your student's fees already pay for unlimited Unitrans and Yolobus rides in and around Davis, from Sacramento, West Sacramento, Woodland, and Winters. S/he need only flash a UC Davis undergraduate ID to board. The Solano Express is a multi-county coach-style bus line that comes to the UC Davis campus six times per day from Dixon, Vacaville, Fairfield, Benicia, and Pleasant Hill, and may fit your student's schedule. Due to the very, very low cost of gas right now, Amtrak's prices aren't particularly competitive. But gas prices don't stay low. Once they shoot back up, this chart's Annual Drive $ amount will change and Amtrak will look a lot more attractive once again.
Beyond what is listed in the chart above, UC Davis also supports other car-free options for getting around, including Zipcar, Zimride, JUMP Bikes, and Waze Carpool—all available to our Aggie Community to supplement otherwise regular commutes.
As you and your student consider cities to call home, please also consider to cost of transportation and how that might impact you and your student's bottom line month-to-month.
Looking for International Student Opinions
Has your student told you about life at UC Davis: things they have enjoyed, things they have struggled withor things they wish could be different? Services for International Students and Scholars (SISS) within Global Affairs is conducting informal focus groups with international students to better understand the challenges they face while at UC Davis and how we can make their experience here a good one. Students will be asked to share their thoughts in a small group setting with a moderator who does not work for SISS. Participants will receive a small incentive and free meal for an hour and a half of their time. If you think your student has opinions to share and would be interested in participating, please encourage them to sign up at http://bit.ly/SISSfocusgroups.
Category
Tags