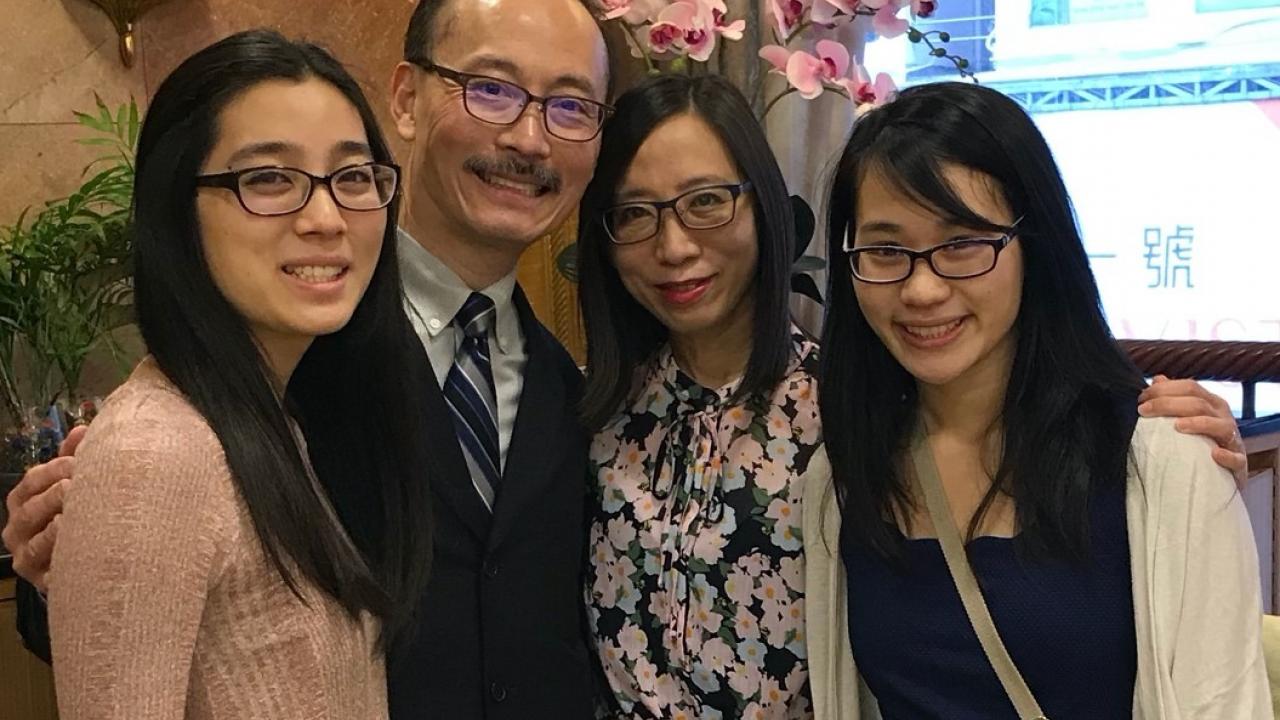 Talking with Aggie Parents
by Cari DuBois-Wright
The more I get to know UC Davis parents, the more impressed I am. With your dedication to students and commitment to enhancing their collegiate experience, parents rank very high among the factors that make UC Davis great.
And the more I talk with parents, the more I learn. In this column, I'd like to share some of these conversations from time to time in the belief that what some parents have to say may resonate with others—and help strengthen and grow our community still further.
I'm kicking this off with a few questions for Darrick Lam '87, a parent donor who serves as founding chair of Family Fellows, a philanthropic group of UC Davis families who are committed to enhancing successful student outcomes through engagement and giving.
As a UC Davis parent, why do you find giving so important and so gratifying?
Darrick: I grew up in Hong Kong with my maternal grandmother, who was a very kind and giving person. Right before she passed in early 1987, she gave away her savings to a charitable organization. That really inspired me to follow her footsteps.
As a first generation Asian American, I would like to support incoming first-generation, low- income freshman students and provide them with the guidance, skills and resources to be successful. This is why my wife and I established an Endowed STEP Award Fund to support students participating in the Special Transitional Enrichment Program at UC Davis.
How has your own student grown here at UC Davis?
Darrick: My daughter has met a lot of wonderful students and learned from excellent faculty members. As a biotech major, she's had the opportunity to apply and deepen her classroom and lab learning as an undergraduate research assistant in the laboratory of Professor Richard Michelmore, director of the Genome Center. She's really excited by all she's learning.
Beyond endowing the STEP program, you engage in other activities as a UC Davis parent. What do you gain from that?
Darrick: I strongly feel that the collective generosity of Aggie parents can make a huge difference in our student's lives every day. As a result, I agreed to serve as the founding chair of the Family Fellows. Our goal is to inspire university leadership, staff and other families to achieve the best for students by serving as examples of philanthropic giving and engaged support. As an Aggie alum, I would like to encourage other Aggie parents to join my family —and others — in the Family Fellows program so we can all help prepare our students for a lifetime of success after graduation.
But even if Family Fellows is not the goal for every parent, we all can make a difference. Especially now with the COVID-19 pandemic, many parents may not be in a position to give — and that is understandable. Or they can only give a small amount. A donation of any size to programs like the Student Pantry or to the frontline workers at UC Davis Health — or, really, to any program a parent cares about — has a tremendous impact and helps grow our parent donor community.
For more information about how parent giving makes a difference in students' lives, contact Cari DuBois-Wright, Associate Director of Development in Parent Giving, at caduboiswright@ucdavis.edu, (530) 754-0768. You can also visit our Parents Fund website here as well as learn more about our Family Fellows.
Category
Tags