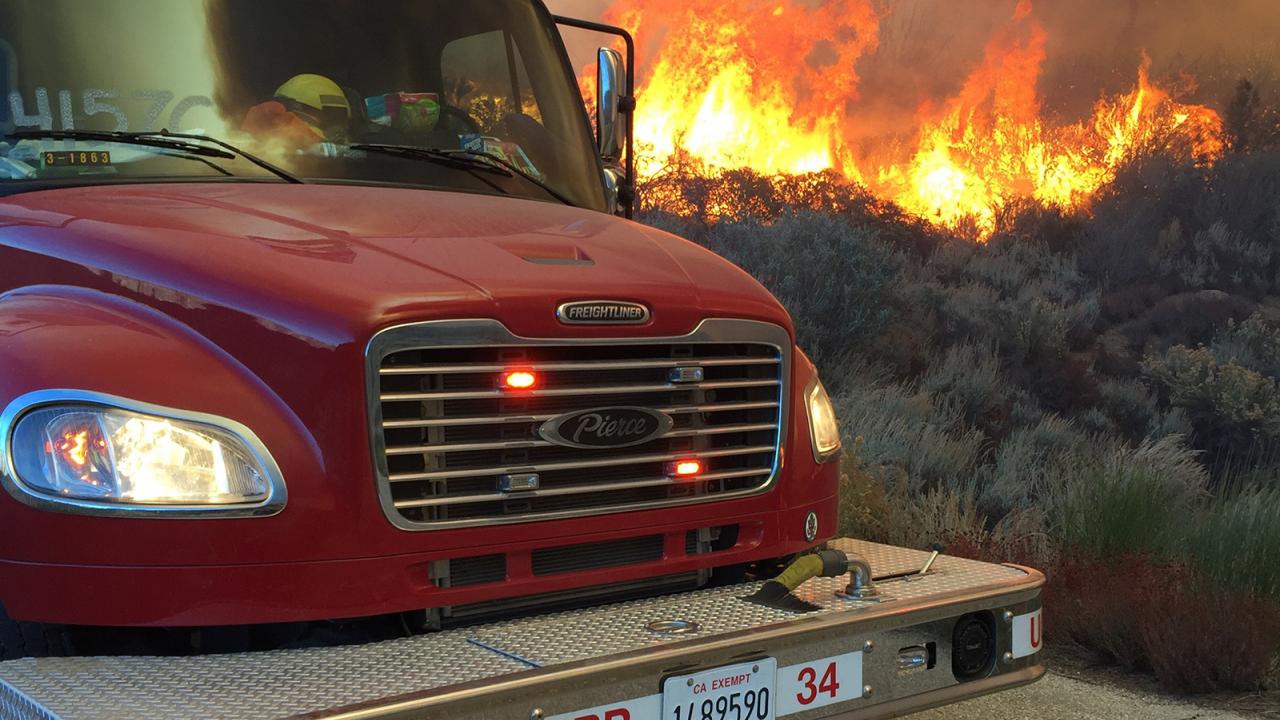 The Thomas fire strike team
UC Davis Fire Captain Joe Newman serves as one of the six fire captains for the UC Davis Fire Department. His team's main focus is the UC Davis campus, but the firefighters at the station have an automatic aid agreement with the city of Davis and surrounding communities, partnering together and often assisting in emergency situations.
On the morning of December 4, 2017, the Thomas fire sparked and quickly became one of the largest wildfires in California history.
Newman got the call at 5:15 a.m. the following morning, with orders to join a strike team from Yolo County that was heading to Ventura County.
Fire departments from UC Davis, Woodland, Willow Oak, Yocha Dehe and Bear Valley, in Alpine County, formed a convoy down Highway 101 to assist the many units already fighting the fire.
When they arrived at the Ventura County Fairgrounds, the hills were illuminated with flames. The fire had spread so quickly that the base camp was not even set up yet. The camp served as a base of operations for hundreds of first responders.
The UC Davis unit team of four included siblings Fire Engineer Kyle Dubs '10 and Firefighter Lindsey Dubs '12,  Firefighter Ryan Tooley and Captain Newman. The crew slept on cots that night  and  began  their first 24-hour shift the next morning.
They battled the dry, powerful Santa Ana winds as the gusts created a difficult environment in their quest to contain the fire.
"Once something is burning, the wind can be a huge factor," Newman said. "It can blow the embers forward and start spot fires ahead of the fire, which is how it spreads so quickly."
One of the crew's assignments was tending to spot fires around a large property. The owner of the property was an older man with several structures, which he rented out to tenants. He had lived on the property for more than 25 years — and was now left with a pile of debris and rubble.
It's hard to lose your home. You can't plan for it, and you may only have a moment's notice to leave. That is an example of the reality we deal with when we fight these fires. These are real people, and we feel for their loss.

- Joe Newman, UC Davis Fire Captain
The crew worked 24-hour shifts, rotating on and off, for two weeks. With the assistance of resources from California, Arizona, Utah, Colorado, Oregon and Washington, the fire reached a level of containment that allowed the UC Davis unit to return campus.
Quality care in crisis
In addition to first responders, UC Davis is also home to the Firefighters Burn Institute Regional Burn Center, which cares for individuals who have suffered severe burn injuries. The Reiff family experienced this care firsthand, after firefighter Richard Reiff suffered severe burns to his face, hands and arms, requiring surgery and a three-week stay at the burn center.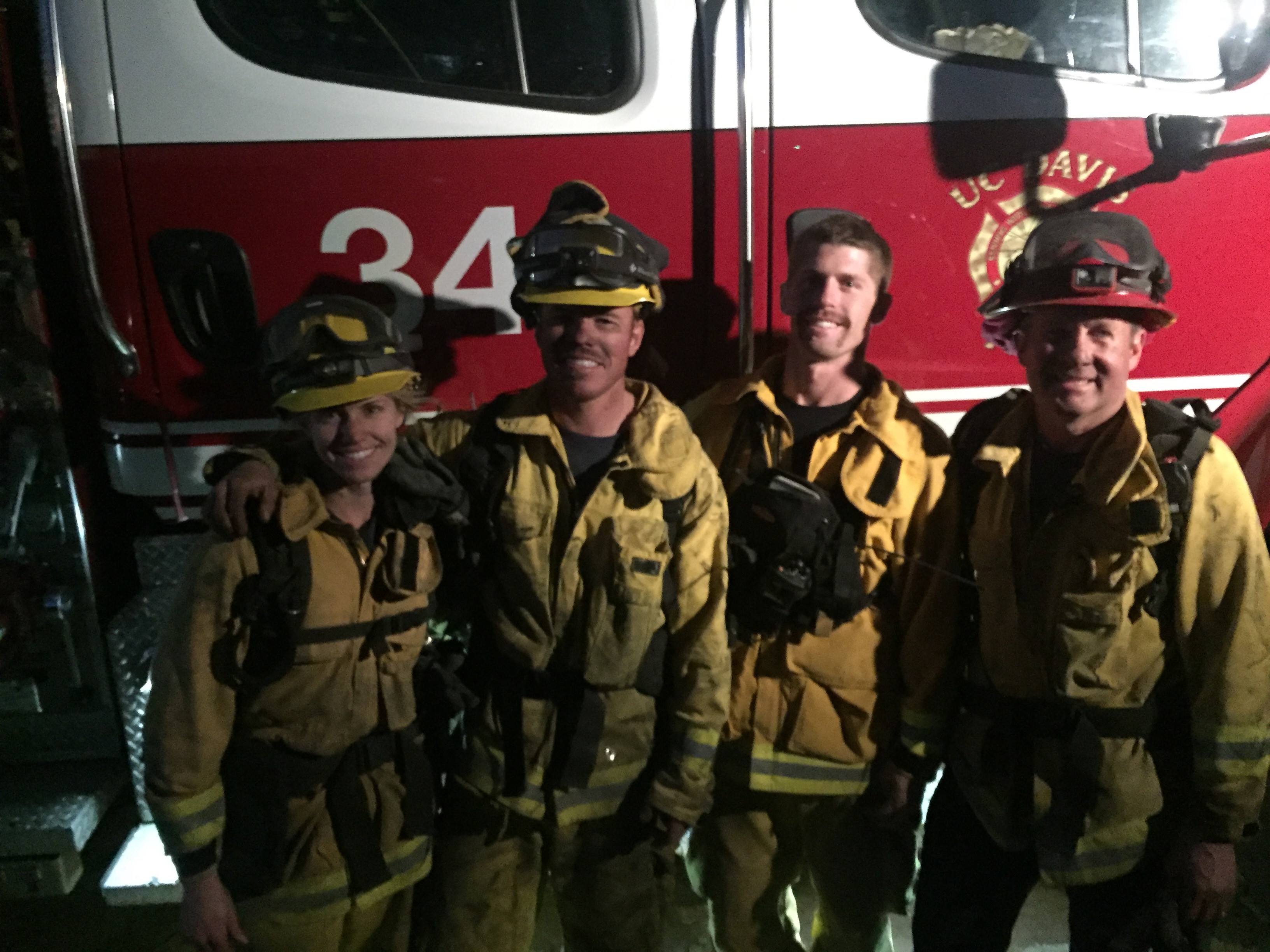 "The nurses thought I was a hero because I was out fighting the fires, but really the nurses at UC Davis are the heroes in my eyes," Reiff said.
Reiff and his crew from the  Boggs Mountain Helitack team faced a daunting task in serving as the initial unit attempting to contain the 2015 Valley Fire, which eventually spread to more than 76,000 acres across Sonoma, Napa and Lake Counties.
The Boggs Mountain team is one of only 10 in California that deploys firefighters on helicopters to perform rescues and contain wildfires until more resources can arrive on the scene. The fire surged unexpectedly, which forced the crew to deploy their emergency fire shelters for protection until help arrived. Unfortunately, even the dirt had caught fire and all four of the team members received second- or third-degree burns. They were quickly airlifted to UC Davis Medical Center for treatment.
Reiff's wife, Leilani, an administrative analyst  supervisor in student housing at UC Davis, was amazed at the level of care and attention her husband and family received. The family now gives to the burn center so patients in need can continue to receive excellent care and the center can develop new discoveries through research ongoing education and community engagement.
"The Firefighters Burn Institute is like nothing else you will  ever  see," she said. "These nurses became a part of our family.  They  not  only  took care of my husband, but me too. We will be eternally grateful."
Helping the helpless
While brave firefighters and first responders battle blazes, helping humans and protecting buildings and homes, John Madigan '70, M.S. '72, DVM '75 of the School of Veterinary Medicine helps in  his  own  special way. He uses his expertise in times
of emergency to rescue animals, who may be left behind or unable  to escape the disaster — a pertinent issue in the wake of the recent Napa Valley fires.
Madigan is a distinguished professor in the department of medicine and epidemiology and a clinician in the Veterinary Medical Teaching Hospital, where he practices equine internal medicine and neonatology. He also founded the Veterinary Emergency Response Team (VERT) and directs the International Animal Welfare and Training Institute (IAWTI).
Madigan, a CAAA Lifetime Member and donor, has had a profound impact on the UC Davis community. 
He was honored at the CAAA Alumni Awards this year, receiving CAAA's Distinguished Achievement Award for his groundbreaking work.
He notes that not only does UC Davis have the world's leading veterinary medicine program, but there is also something undeniably special about the people who work as UC Davis veterinarians.
"In a disaster situation, when people have to evacuate and leave animals behind, or when animals are injured, burned, hurt or submerged in flood waters, that's an opportunity to do some direct good for animals," he said.
There are more than 140 students in the student Veterinary Emergency Response Team. During the Napa Valley fire, teams were out for six days rescuing animals. The Veterinary Medicine Teaching Hospital allowed the team to bring in severely injured animals to receive critical care.
"The majority of the care is out in the field where others may not 
be allowed to enter the disaster area," Madigan said. "We are able to accompany emergency response personnel and have a chance to make a difference and help these animals."
A culture of service
As Newman remarked, and Madigan and the Reiff family echoed, UC Davis fosters a culture of service that inspires passion and forward- thinking.
"A lot of times we are helping people that are having the worst day of their lives, and it's our calling as Aggies to help them the best we can," Newman said.
Read more
The stories presented in this article represent only a fraction of what members of the UC Davis community do to support people in need during natural disasters including wildfires. Learn more about how the university makes a difference during and after wildfires.
Category