Making a "buzz" about science
Entomologist alumna publishing children's book on insects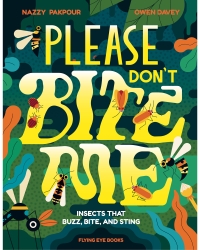 How much do you know about the pesky insects that buzz and bite in your everyday life? Nazzy Pakpour '99 has dedicated her career to studying mosquitos and other parasites, and now she's uncovering their mystery with her upcoming children's book, Please Don't Bite Me!
"These insects are easy points of entry to learning about science because we see them or interact with them all the time," Pakpour said. "People say 'don't let the bedbugs bite,' but do they know what a bedbug is?"
With a love of storytelling and science, Pakpour hopes to inspire future scientists and teach readers that there is more to these insects than meets the eye.
"I love the idea that there might be a six-year-old somewhere that picks up this book and gets interested in science," she said. "The beautiful thing about insects is that they're around us all the time. It's not a distant concept that you can't touch and experience, it's right outside your front door."
A former professor now working in sustainable biotech, Pakpour earned an entomology degree with a creative writing minor from UC Davis. She's passionate about bridging the gap between science and the public.
"The pandemic really highlighted how the science community needs to be better at communicating with the public in a way that's understandable to people from a young age all the way into adulthood."
'World opening up' at UC Davis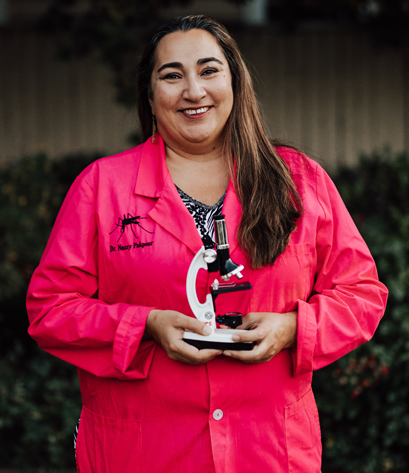 Pakpour and her brother, whose parents are from Iran, were the first in her family to attend college in the U.S. Navigating college life was challenging, but working in a mosquito research lab with supportive graduate students and faculty helped Pakpour find her way.
"I didn't really know all the nuances to pursuing a career in science," she said. "I wouldn't have been able to walk the path I had if I didn't have help at the lab. I felt really nurtured there."
Pakpour went on to earn a Ph.D. from the University of Pennsylvania in microbiology, virology and parasitology. She came back to UC Davis for her postdoctoral studies before becoming a professor at Cal State East Bay. She recalls how attending UC Davis opened her world to new possibilities.
"When you come from an immigrant family, there's a very protective response to kids and the wider world," she said. "When I came to Davis, it was the first time that I saw the immensity of the different paths that I could walk and all the ways I could 'do' science and be successful in it."
Full circle at the Bohart Museum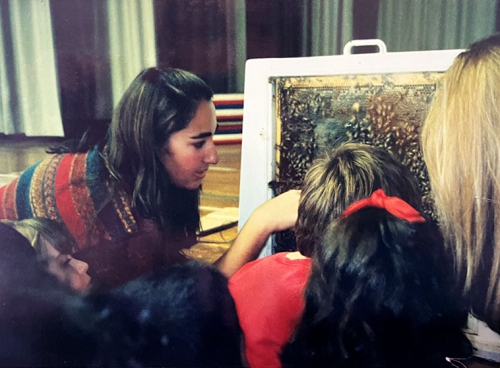 Another highlight of Pakpour's undergraduate experience was her volunteer job at the Bohart Museum. She credits Lynn Kimsey '76, Ph.D. '79, the museum's director since 1989, with creating a special place on campus.
"Spaces that aren't the lab or classroom are so valuable for students," said Pakpour. "Lynn made the museum a place with a sense of community for entomology students and others to connect. It speaks a lot to their work that they've been able to create such a space and then hold it for as long as they have."
Collaborating with the museum for her book's release feels like a full-circle moment for Pakpour. From volunteering with kids for the Picnic Day cockroach races as a student, Pakpour now takes her own kids to see the races.
"The museum is very dear to my heart," she said. "Lynn has known me since I started volunteering at the museum when I was 19. Having someone support you for that long is so rare."
Get a copy at "Night at
the Museum"
Date: July 22, 2023
Time: 7-11 p.m.
Location: Bohart Museum
Get a copy of Pakpour's non-fiction illustrated book Please don't bite me!—and support the Bohart Museum—at its "Night at the Museum" event on July 22. All proceeds from book sales will go to the museum.   
Event details: https://bohart.ucdavis.edu/
An unexpected path
Publishing a children's book is one more twist to Pakpour's career that she didn't always see coming—like leaving academia for industry research last year. Pakpour has learned that success and happiness don't always take the form we think it will.
"Oftentimes my curiosity has led me to opportunities that I wouldn't have fathomed for myself or didn't know were out there," she said.
For today's students who might be struggling with figuring out their future, Pakpour says: "Give yourself permission to be curious and explore things that maybe aren't what you've always envisioned for yourself, because they end up weaving back in eventually."
Primary Category
Secondary Categories