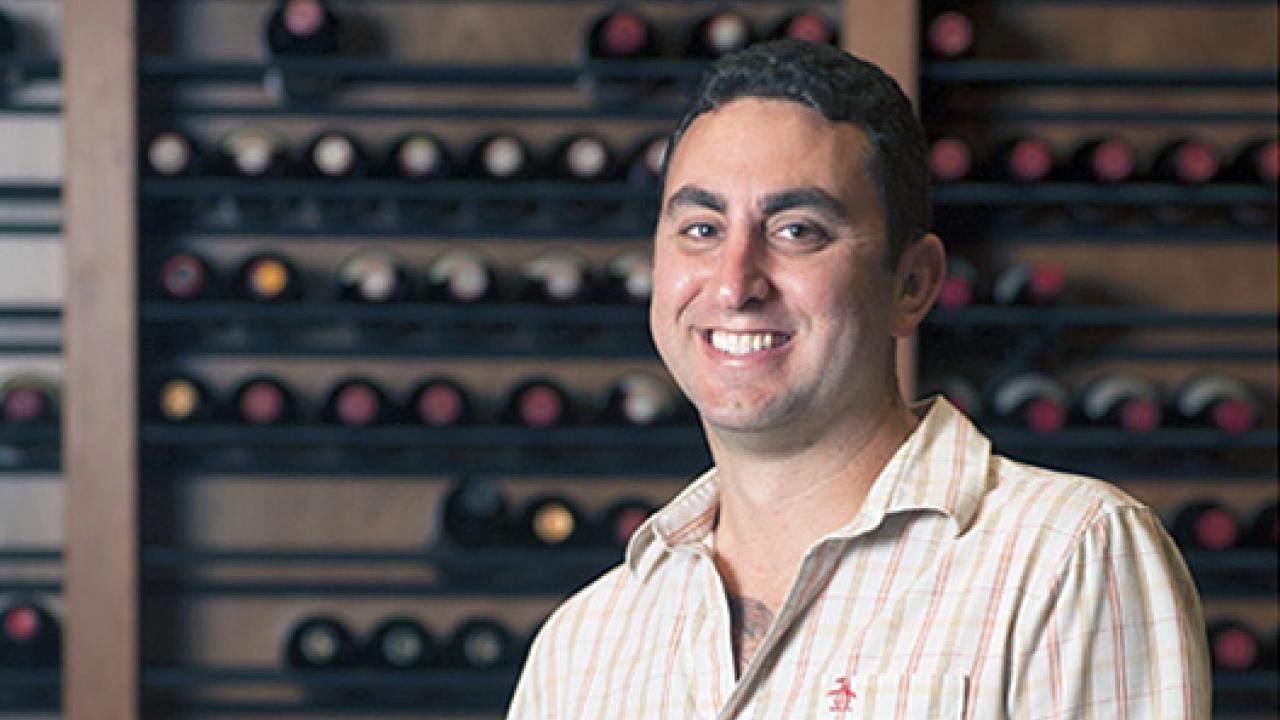 By Sarah Colwell
National sales and marketing director, vintner and new member of the CAAA Wine Program Business Development Committee, Eben Drucker '02 was introduced to the wine industry while a student at UC Davis, but not in the way that one might think. This cultural anthropology and economics major actually first learned about the wine business in a darkroom. 
During his junior year at UC Davis, Drucker taught a photography class at the UC Davis Experimental College where he met a fellow Aggie who was a viticulture and enology student. While Drucker shared his knowledge of photography (which he acquired from his upbringing), the student enlightened Drucker to the elements of wine making and got Drucker a connection to work in the tasting room at R.H. Phillips. 
His senior year, Drucker took an introductory wine-making class at UC Davis from Professor Douglas O. Adams, where his interest in wine only grew. He then took a class at the UC Davis Extension where he refined his knowledge of the wine business. 
"A UC education just trains you to think differently. The econ classes I took helped tremendously and I referred back to Professor Adam's syllabus for years," said Drucker whose wife, Page, and sister, Sophie Drucker, are also UC Davis alumni. "The amount of knowledge I gained through the UC Davis Extension course was probably the most helpful thing I did. I also made a lot of contacts, some contacts who I still have business partnerships with today." 
Soon after graduation, Drucker became the co-founder of West Coast Wines — a start-up brokerage and distribution business for small wineries — and began  selling wines to restaurants in the Davis, Sacramento and San Jose areas. In less than four years, Drucker helped grow the company into a multi-million dollar grossing wine distribution house. 
"I was only 22 years old when I started and I'm not quite sure how I did it, but I did," Drucker said. 
In December 2008, Drucker sold his partnership and, with the U.S. economy entering a recession, he saw a chance to start a new business at the same time that he and his wife welcomed their first child, Ellie, into the world. 
"With the economy going down, the high-end wine market came to a screeching halt and lines of credit for large distributors shrank. I had all these small wineries tell me 'I can't get any traction on my product and now I can't buy grapes for next year because all my money's tied up in product,'" Drucker recalled. "They needed someone out there representing them. I saw that as an opportunity." 
Drucker began a winery consulting and marketing firm called the Tova Beverage Group. He soon expanded the business and in 2011 partnered with Robin Gerber to found Spotlight Brands — a national sales and marketing company for small premium wineries in California, specializing in wines with craft and integrity. Some of Spotlight Brands clients include Caraccioli Cellars, DeSante Wines, Peay Vineyards, Arietta, and Montagna Vineyards. 
In 2013, soon after the birth of his son Asher, Drucker saw another prime opportunity to grow his business ventures — this time as a vintner. Through a partnership with a Santa Lucia Highlands vineyard, Drucker launched Carrier Wines. 
"Carrier Wines came along because I could get a 
guarantee on superior fruit," said Drucker, who is an avid fan of tatoo art and also enjoys fly fishing, hiking and archery. "I've been presented with a lot of opportunities to do a wine project before, but this project had longevity and superior fruit at a sustainable level." 
Carrier wines, which was named in honor of Carrier pigeons from WWI and WWII, currently makes Pinot Noir and Chardonnay and is looking to add a Cabernet to its portfolio in 2014. It is currently sold locally at Selland's Market- Café, Taylor's Market and Taylor's Kitchen, Tapa of the World and Matteos; regionally at Bounty Hunter Wine Bar & Smokin' BBQ in Napa and The Vine at Bridges in Danville; and internationally in Singapore. 
"Our mission for Carrier is to sell good wine that is accessible to everyone. We want to make real grapes into a real product that is delicious and everyone can enjoy." 
Drucker participated in the 2013 Vintage Aggies Wine Tasting event, pouring Carrier to the dozens of participants and received great exposure for his new label. 
"Vintage Aggies Wine Tasting was a great event. I had an 80-percent success rate on securing new clientele just from a one-hour event. It was a huge success." 
For more information, contact Eben Drucker at info@carrierwines.com or visit www.facebook.com/carrierwines. 
Category
Tags