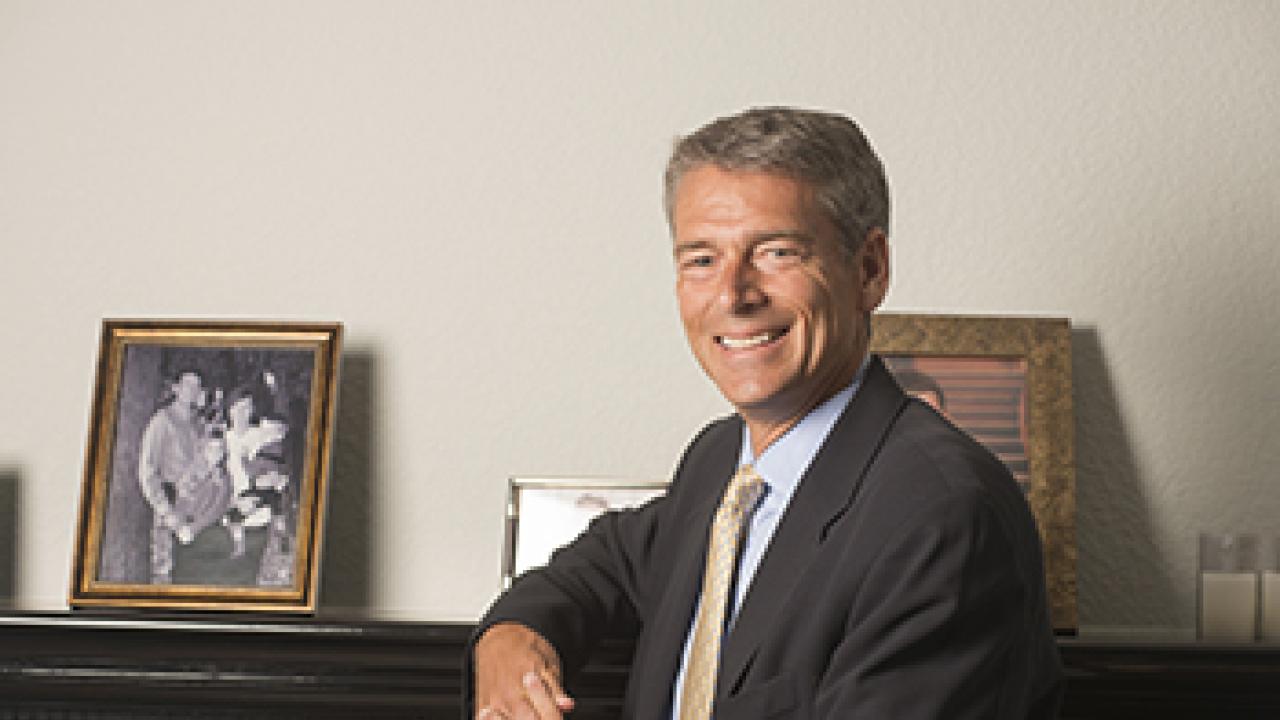 There is no denying that Michael Hurlston's '88 MBA '90 M.S. '91 triple play of degrees from UC Davis has made a huge impact on his career. Now the vice president and general manager of the mobile connectivity and product division at Broadcom, he credits his success to his education at UC Davis, where he earned undergraduate and graduate degrees in electrical engineering as well as an MBA.
"During the first few years of my career, I was an electrical engineer, but then I wanted to shift to marketing because it fit my personality better," Hurlston said. "So I went to one of my bosses who was looking for a marketing person and told him I had an MBA, but he didn't believe me. So I literally went home to find my degree, brought it in, and he gave me a chance. That's how my marketing career started, and I have done very well since."
Ranked No. 340 on the Fortune 500 list, Broadcom is one of the world's largest semiconductor companies, with operations in 15 countries and nearly 10,000 employees. The company is a leading designer, developer and global supplier of a broad range of digital and analog semiconductor connectivity solutions, serving the wired infrastructure, wireless communications, enterprise storage and industrial markets. Hurlston's division is also one of the largest at the company, requiring him to manage teams all over the world, including in the United States, Australia, China, India, the Netherlands and more.
"One of the great things about my job is the travel," said Hurlston, who previously ran the company's worldwide sales department. "I grew up in the Silicon Valley and work and live there now, so in some ways I haven't gone very far. But when I was a student at UC Davis, I'd only been to the U.K., where my family is from, and Nevada. Now, I've been to more countries than I can count and nearly every state."
Even though time differences sometimes require him to work from 6 a.m. to 2 a.m. the next day, he believes the job is well worth the workload.
"What I like most about my role is that I don't have a typical day," he said. "I may meet with customers about new products or with the engineering department to help solve issues, or any number of other tasks. It's very diverse work and isn't easy to predict, and I'm of course lucky that I don't need a lot of sleep."
Giving back
Grateful to UC Davis for preparing him for his complex leadership role, Hurlston and his wife Joelle Hurlston '89 recently pledged $1.5 million to establish a first-of-its-kind endowed chair position. The Michael and Joelle Hurlston Presidential Chair will rotate between the Graduate School of Management and College of Engineering, where Michael earned his degrees, as well as the College of Agricultural and Environmental Sciences, where his wife received her bachelor's. Joelle works part-time as a hazardous materials consultant, where her assignments include inspecting new facilities at state-of-the-art Silicon Valley manufacturing companies, among other tasks.
"We've obviously done very well from a financial and career standpoint, and this gift was a thank you to UC Davis for setting us on this track," said Hurlston. "And, with that, we wanted to recognize all three colleges that contributed to us as a family: the College of Engineering, where I started and also got a master's; the Graduate School of Management, which was really instrumental for me as a leader and marketer; and the College of Agricultural and Environmental Sciences, which set Joelle up for the career that she embarked on."
Hurlston is also an active UC Davis volunteer. He is a new member of the Graduate School of Management's Dean's Advisory Counsel. He has also been instrumental in partnering with the management school on several Integrated Management Projects, a capstone course in which teams of UC Davis MBA students consulted on a specific business issue and provided recommendations at Broadcom. Additionally, he has advised engineering students on their presentations and remained active with the College of Engineering in other ways.
"We as a family wouldn't be where we are today if it weren't for UC Davis," Hurlston explained. "And I think that goes for a lot of UC Davis alumni. So it's incumbent on us to say, 'We got this amazing start from our education, and now it's time to give back.'"
Note: This story originally appeared in the spring 2017 issue of AggieXtra.
Category
Tags